Living in the Black Hills of South Dakota is truly a blessing, with its stunning natural beauty. However, our communities are currently grappling with a pressing issue: an affordable housing crisis. Those in the middle-income range, who do not earn enough to qualify for a home loan, are bearing the brunt of skyrocketing rents. Families associated with Black Hills Area Habitat have shared their fears of rising rents and the possibility of being forced out of their rentals, leaving them homeless with their children.
While new businesses are attracted to the growing population, the low unemployment rate, and the presence of the expanding Ellsworth Air Force base, the cost of necessities like groceries, gas, and utilities can be overwhelming for the average wage earner. The median household income stands at approximately $55,000, which is only half of what is required to ensure that housing costs remain within 30% of income—a benchmark widely recognized in the industry to guarantee the fulfillment of other crucial needs such as childcare, healthcare, and education.
A 2022 Rapid City Housing Market Summary revealed that Rapid City's population grew by 15% between 2010 and 2020, and this growth is projected to continue with an estimated increase of 18.9% between 2020 and 2030. Consequently, a housing crisis has emerged at all levels: housing supplies have dwindled, prices have surged, and starting and middle wages fail to support the average costs of rent or homeownership.
To meet the escalating demands of the growing population, our region requires an additional 5,500 housing units by 2030. Failure to address this housing shortage can lead to overcrowded households, a surge in homelessness, and individuals being forced to make difficult choices between securing housing and meeting other essential needs.
In response to this urgent situation, Black Hills Area Habitat is committed to playing its part in resolving the housing crisis. We aim to extend a hand up, rather than a handout, to qualifying home buyers and those in need of critical home repairs. However, it is crucial for all sectors of our community to demonstrate strong leadership and take decisive action. We seek collaboration and partnerships with like-minded public servants, companies, organizations, and non-profits.
Together, let us develop a comprehensive strategy that fosters cooperation among local government, private developers, and nonprofit organizations. Prioritizing the construction of affordable housing units, offering financial incentives to developers, and streamlining regulatory processes are essential steps in promoting the creation of more affordable housing options.
Focusing on new home ownership and preservation of existing housing stock is a unique solution to the housing crisis. We have an opportunity to get ahead of this issue and do so in a very affordable way.
At Habitat, we understand that a house is more than just a physical structure. It forms the very foundation upon which families can build prosperous lives and escape the grips of near-poverty conditions. This transformational process breaks the cycle of poverty, allowing families to focus on education and health. By creating stronger and healthier communities, we can collectively pave the way for a brighter future.
Each year we work with a coalition of housing experts to dissect and evaluate policies that affect if, where, and how housing will take place in South Dakota and together we formulate our action steps for the annual Day at the Capitol event. Whenever we go to the Capitol, we bring our best information, recommendations, and of course, we include food! Everyone likes to eat and food is a great gathering force! Over the coffee and treats we offered, we met with Representatives, Senators, Lobbyists, and policy creators.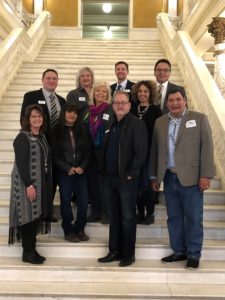 As the morning wore on, the flow of conversations with representatives and regulators began to slow and those of us who hosted the event began conversing amongst ourselves. My thought was that breakfast was over and we were ready to pack up. Then, an old friend from the Senate appeared with a big smile, and I helped make introductions all around. His commanding presence and pointed questions regarding the Governor's recent bills proposing to allocate $200M towards workforce housing caught us all by surprise!
I have always known Jeff Partridge was a friend to housing. When we parted ways I thought back to the 7-hour car journey we shared in 2020 while he was in the senate. When we brainstormed on how the Senate could do a lot more for housing. Then I recalled the meeting we set with Mark Lausing, the Director of South Dakota Housing at the time, to discuss how SDHDA programs are administered, ways to improve efficiency, and the need for grants. Suddenly it dawned on me, the leading bills put forth from Governor Noem for the 2022 legislative session, SB53 and HB1033 have his handprint all over them- they are a part of the response to the loud call for affordable housing solutions in South Dakota.
I found myself with the unique sense that this journey is far from over. Advocacy is a marathon and we never know who is on the sidelines ready to offer a fresh, cool cup of water. What if the answer is not what you thought it was, and the people who need your influence are not who you think they are?
This experience reminded me, as I am reminding you, that we need to gather our opinions but to stay ready to learn, and ultimately be surprised at who – and how – things get done when we show up. The time we spend wholeheartedly today with one person may become a key relational investment that unlocks the door to opportunity in the future. As we put one foot in front of the other in the direction of improving homes, communities, and hope, we will not forget those we meet along the way.
Through our five-year Cost of Home campaign, we commit to mobilizing our local Habitat organizations, our partners, our volunteers and community members across the country to find the solutions and help create the policies that will allow 10 million individuals to meet their most basic needs. At Habitat for Humanity, we know that a family should never have to spend more than 30% of their income on a home. Join us, and help make the cost of home something we can all afford.
We must create what Dr. Martin Luther King, Jr. called "the beloved community" — a community that includes diversity and allows for tension undergirded by love and leading to transformation. To do so, we must truly love our neighbors as we love ourselves. We must change. And we must commit to tangible action. We pledge to help build a world that leaves no room for poverty, prejudice or violence, and to work together with our neighbors, side by side, to create strength, stability and self-reliance for all.