September 19, 2023
NEWS RELEASE
Contact:            
Scott Engmann,
Black Hills Area Habitat for Humanity
scott@blackhillshabitat.org
(605) 348-9196                                                         
Nissan donates Nissan Frontier pickup truck to Black Hills Area Habitat to support local construction efforts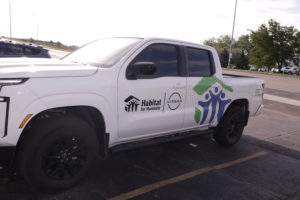 Rapid City, SD (September 19, 2023) — Black Hills Area Habitat for Humanity is excited to announce it received a Frontier pickup truck from Nissan.  The donation is part of Nissan's $800K national partnership renewal with Habitat for Humanity to support local Habitat affiliates across the U.S.
Nissan is donating five vehicles to local Habitat affiliates this year to use to support serving families in need of affordable homeownership solutions including critical projects surrounding new home construction and home repair. Additionally, Nissan employees will volunteer in 12 communities near Nissan's manufacturing and operational locations.
"Nissan is deeply committed to the areas where our customers, employees, and dealers live and work, and our partnership with Habitat for Humanity is one way that we invest in these communities," said Travis Parman, vice president, Corporate Communications, Nissan North America, Inc. "Our employees, working alongside our partners at Habitat and the future homeowners, are able to directly improve their local communities and help families build a safe and decent place to call home."
Nissan has contributed more than $20 million to Habitat nationally since the partnership began in 2005 when Nissan donated 50 trucks and mobilized employees to assist in home building following Hurricanes Katrina and Rita in the Gulf Coast region. Nissan has continued its support through the years by donating an additional 160 vehicles to support construction activities and disaster recovery efforts.  Furthermore, Nissan's employees have contributed more than 112,400 volunteer hours working alongside future homeowners in communities across the U.S.
"We are grateful to work with generous partners like Nissan who are dedicated to transforming lives through affordable home ownership," said Scott Engmann, Black Hills Area Habitat Executive Director. "We are extremely thankful for Nissan's commitment to Habitat at the local level.  We have the privilege of working toward a common goal that transforms the lives of people who simply need a safe affordable place to live. Nissan's commitment to Habitat for Humanity helps us create stronger communities right here in the Black Hills."
About Black Hills Area Habitat for Humanity 
A nonprofit Christian housing organization dedicated to creating a world where everyone has a decent place to live, Black Hills Area Habitat for Humanity (BHAHFH) brings together people with resources and people in need of a hand up to build and repair simple, decent, affordable homes. BHAHFH has served over 350 families locally and globally since 1990. BHAHFH ReStore helps raise funds through items donated and sold to serve additional families in the Black Hills area. Call 348-9196 for store and donation hours. For more information, visit www.blackhillshabitat.org or call 348-9196. Black Hills Area Habitat for Humanity is a United Way member agency.
About Habitat for Humanity International
Driven by the vision that everyone needs a decent place to live, Habitat for Humanity found its earliest inspirations as a grassroots movement on an interracial community farm in southern Georgia. Since its founding in 1976, the Christian housing organization has grown to become a leading global nonprofit working in local communities across all 50 states in the U.S. and in more than 70 countries. Families and individuals in need of a hand up partner with Habitat for Humanity to build or improve a place they can call home. Habitat homeowners help build their own homes alongside volunteers and pay an affordable mortgage. Through financial support, volunteering or adding a voice to support affordable housing, everyone can help families achieve the strength, stability and self-reliance they need to build better lives for themselves. Through shelter, we empower. To learn more, visit habitat.org.
About Nissan North America
In North America, Nissan's operations include automotive styling, engineering, consumer and corporate financing, sales and marketing, distribution and manufacturing. Nissan is dedicated to improving the environment under the Nissan Green Program and has been recognized annually by the U.S. Environmental Protection Agency as an ENERGY STAR® Partner of the Year since 2010. More information on Nissan in North America and the complete line of Nissan and INFINITI vehicles can be found online at www.nissanusa.com and www.infinitiusa.com, or visit the U.S. media sites nissannews.com and infinitinews.com.