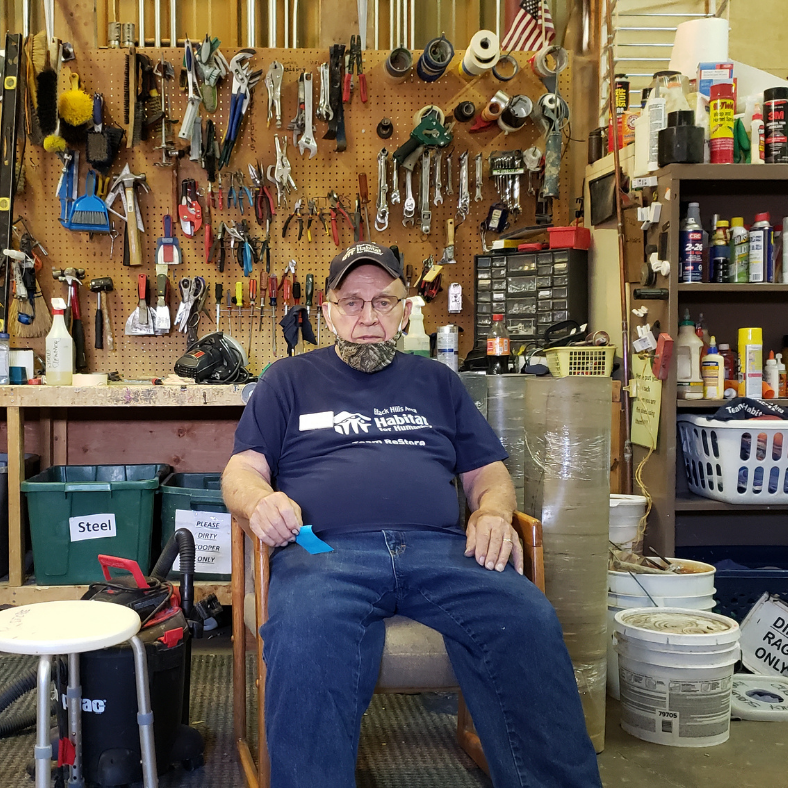 Bernard Christner 
ReStore Volunteer Record Holder
Over 13,000 Volunteer Hours
ReStore Volunteer
When you volunteer at ReStore you lower our operating costs, which means more sales revenue goes directly to building more homes in our community! ReStore can accommodate groups and individual volunteers 14 and up, Tuesday through Saturday in both our Rapid City and Spearfish locations.
"This is God's work. It makes blisters and it makes sweat, but it's worth my time and it's worth your time."
-Millard Fuller, Habitat for Humanity Founder
Whether it is for school, church, or court ordered, ReStore provides an opportunity for volunteers to get their hours in through the below opportunities.
A great opportunity for volunteers with retail experience. Volunteers are responsible for using our point of sale software and cash register system to keep accurate records of sales and inventory.
*Requires a background check
An opportunity for volunteers looking to interact and assist ReStore guests in navigating the store and finding items. Volunteers are responsible for maintaining a neat appearance and being ready to answer any guests' questions, helping guests transport items to their vehicle, organizing, sorting, and cleaning items on the sales floor as well as setting up item displays.
This opportunity is great for volunteers looking to get out and see the hills while providing the muscle to support ReStore staff. Volunteer responsibilities include assisting ReStore staff in picking up items from donors' homes, loading and unloading donations, and assisting with transporting recyclable materials to collection sites.
*Driving ReStore vehicles to homes if qualified.
Dock and Warehouse Volunteer
This opportunity is for volunteers who enjoy assisting customers in a hands-on way. Volunteers are responsible for unloading donations from their vehicles, preparing donations to be sold by cleaning items, making minor repairs, and assembling items. It also involves stocking, organizing, and cleaning items on the sales floor, preparing damaged items to be recycled, and cleaning the dock area and warehouse.