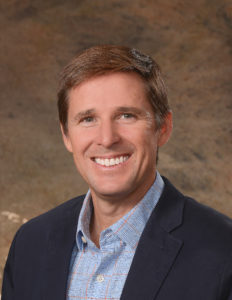 From the desk of R. Scott Engmann
Executive Director
Welcome to Black Hills Area Habitat for Humanity.
Home, Hope & Education
Seeing a person get qualified for affordable home ownership with Habitat is always fulfilling, but imagining where they will go or what they will do with the opportunity is truly exciting!
Back in 2016, Team Habitat, in partnership with Love INC, Consumer Credit, and dozens of volunteers, celebrated Noel and Jennifer Brown completing their 500 hours of "sweat equity" and becoming home owners.  They moved into their Habitat home and have graciously attended Habitat events, lauding the benefits of Habitat for Humanity and the peace of mind of knowing that their home enables them to do things they couldn't have done without an affordable mortgage, such as furthering their education.
Toward the end of 2018, Noel stopped in the office to share exciting news.  Since achieving homeownership, he now had also successfully completed his Bachelor's degree at Black Hills State University in accounting.  He allowed us to celebrate with him by making us aware of his success, and invited Team Habitat to join him in celebrating at graduation.
Noel's graduation reminds me of the anticipation I should carry every day as we serve more people with housing solutions that work!  One never knows what is possible when someone gets stabilized in life, and a home is one of the most important things that brings stability.
I applaud Noel in his graduation, but I also applaud the hundreds each year who join in building and serving. Without you, Noel would not be a homeowner.
Scott Engmann,
Executive Director